If you're looking for an affordable custom pool builder in Sattler, TX then Wimberley Pools & Spas can get you ready for fun – summer after summer! We've been designing and installing swimming pools and spas in Sattler and the surrounding areas for more than 20 years. We can also remodel or renovate your existing pool, to take your backyard from "just okay" to "amazing."
Sattler Pool Builders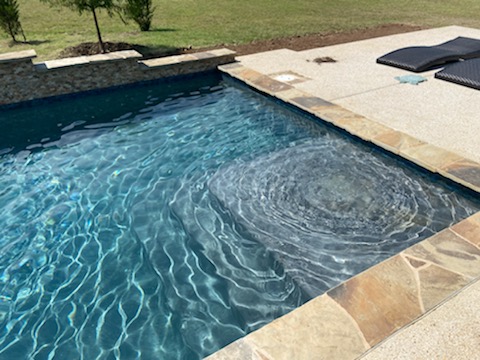 Maybe you know exactly what you want. Maybe you have a general idea, but could use some help comparing options and filling in details. Maybe you have no idea at all! The experienced staff at Wimberley Pools & Spas can help you. Choose from existing pool designs or create your own with a knowledgeable pool designer. Our time-tested pool construction process relies on proven construction techniques that will reduce cost without sacrificing quality. From the initial consultation through the complete installation of your new pool, we'll be with you through the entire process.
Pool Construction & Renovation in Sattler, Texas
Want add a new spa, water features, or custom lighting to your existing pool? Maybe it's in need of resurfacing or updated tile. If you have an outdated pool, there's a good chance it's not running very efficiently, and might even pose a safety risk. Our team will provide a full pool inspection while paying special attention to the filtration system and drain covers to ensure they meet current safety standards. We'll also make recommendations for the necessary repairs and upgrades. Even if your pool is a maintenance nightmare now, or looks like it's stuck in the 1980s, our experts can transform it into an oasis that only needs a bit of easy-breezy care once a week. Enjoy your pool again!
Get Started Building Your Pool Today!
For more information about our pools or a free estimate
Why Choose Wimberley Pools & Spas?
So, you've made the decision to build a pool or upgrade your existing one, and you're excited to see the results. Be sure to choose a professional, experienced custom pool builder in Sattler, TX or your dreams can turn into a long nightmare. Mobile, unqualified or just dishonest pool builders can wind up costing thousands more when repairs are needed or when they fail to pay their vendors or subcontractors, allowing the placement of a lien on your pool. When selecting a pool designer or remodeler, here are some questions to ask, to ensure you're dealing with a reputable company:
Is the builder a member of the Association of Pool and Spa Professionals (APSP)?
Do they have a local, physical office?
Do they have a showroom where you can see the products?
How long have they been in business?
Is the builder covered by insurance?
Are their subcontractors covered by insurance?
How many projects have they done and can they show you examples of their finished work?
Will the builder provide lien waivers from vendors and subcontractors to show they've been paid?
Get Started Today on the Swimming Pool of Your Dreams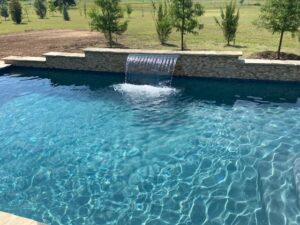 Wimberley Pools & Spas welcomes the opportunity to assist you in turning your backyard dream into a beautiful and flawless reality. The swimming pool builder that you choose to bring your backyard vision to life should not only have a proven record of success and be highly experienced, but also be trustworthy and honest. We know that choosing to build a pool is a large financial commitment, so we offer financing, and work to make the most of your investment.
Our staff are highly experienced in pool building and design. We have been designing and installing swimming pools and spas in Central Texas and the surrounding areas for over 20 years. We are proud to serve the Sattler, Texas area. Contact us today!