Turn Your Backyard Into The Perfect Retreat
Do you cringe every time you step into your backyard? Do you wish that you had a backyard oasis that made you feel like you were at a resort? Learn how to turn your backyard into the perfect retreat and you'll never want to leave!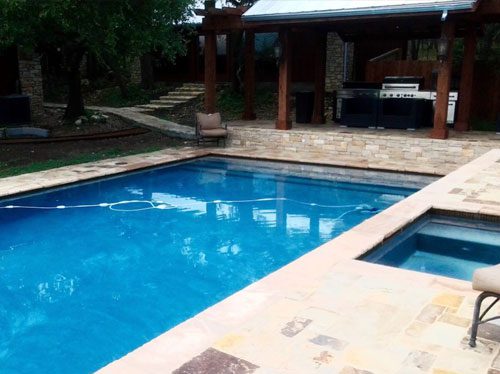 1. Add New Landscaping
Landscaping can help make your backyard feel more like an oasis. Banana plants or palm trees give you that resort feel and are easy to care for. Planting these tropical beauties around your pool make the whole area feel tropical. Add pops of color along walkways and in planters with lilies, bougainvillea, and plumeria are all colorful plants that can give you the look and feel you are looking for.
2. Remodel Your Pool
Do you have an older pool that needs renovations? Not only does it not fit into the retreat look, but it probably isn't running as efficiently as it could. The team at Wimberley Pools and Spas can come out and inspect your existing pool and work with you to get it looking like new. Contact us today!
3. Add Furniture and Accents
Create an inviting space in your backyard with comfortable outdoor furniture and accents that have bright pops of color. Place a colorful indoor/outdoor rug underneath your seating area and toss a couple of bright throw pillows on the chairs. Small tweaks to your outdoor space can really make all the difference.
4. Bring in Fire
Add a fire pit, chiminea, or have a custom fire pit made for your outdoor space. It will keep you and your guests warm on chilly nights, but also the light from a fire is cozy and inviting.
5. Hang Lights
Hanging lights also make your outdoor area feel more like an oasis. String lights around your yard. Not only does it help you and your guests see during nighttime parties, but it also gives off an oasis-type feel.
If you are looking to turn your backyard into the perfect retreat, let the professionals at Wimberley Pools and Spas help!