Upgrading Your Geometric Pool with the Latest Features and Technologies
In the world of luxurious pool designs, geometric pools hold a special place. Their clean lines and symmetrical designs exude elegance and contemporary charm. If you're thinking of giving your geometric pool an upgrade, you're in for a delightful journey! At Wimberley Pools & Spas, we stay abreast of the latest in pool technology and features. Here's a rundown of how you can upgrade your geometric pool with cutting-edge technologies and trending features.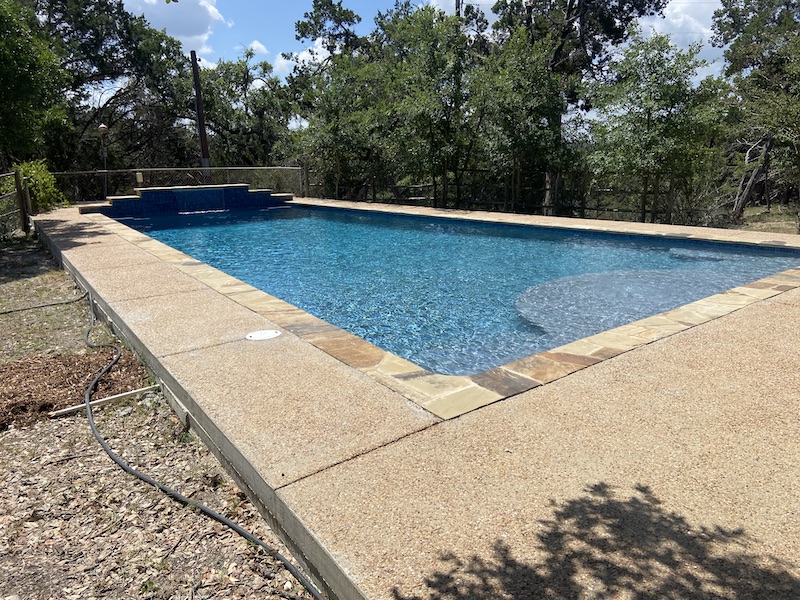 Latest Features to Enhance Your Geometric Pool
Integrated LED Lighting: Set the ambiance right with LED lights that can change colors or even sync with your music. Apart from the aesthetics, LED lighting also ensures safety during nighttime swims.
Water Features: Think waterfalls, laminar jets, or bubblers. They not only add a visual appeal but also create a soothing water sound that can make your pool time even more relaxing.
Sunken Seating Areas: Also known as a sunken lounge or a baja shelf, this shallow area is perfect for sunbathing or letting little ones splash around.
Innovative Technologies for a Smart Pool
Automated Cleaning Systems: These systems, integrated into your pool's infrastructure, ensure your pool remains clean without the need for constant manual cleaning.
Smart Control Systems: Manage everything from your pool's heating to its lighting with a click on your smartphone. Smart controls make pool maintenance a breeze.
Energy-Efficient Pumps: These pumps regulate their speed based on the pool's needs, saving energy and reducing your electricity bill.
Enhancing Pool Safety
Pool Covers: The latest automatic pool covers not only offer safety by preventing accidental falls but also maintain your pool's temperature and prevent debris from getting in.
Safety Alarms: Available for both the pool surface and gate, these alarms can alert you in case of any unexpected disturbances, offering an added layer of security.
Personalize with Finishes and Tiles
Your choice of finishes and tiles can make a significant difference to your pool's overall look.
Glass Tiles: Reflecting the water's natural beauty, glass tiles shimmer in the sunlight and offer a luxurious touch to your pool.
Natural Stone Coping: Enhance the edges of your geometric pool with stones like travertine or slate, offering a timeless appeal.
Upgrading your geometric pool is more than just a visual enhancement; it's about integrating functionality with aesthetics. With advancements in technology and a plethora of features available, there's no limit to the enhancements you can achieve.
At Wimberley Pools & Spas, we're dedicated to helping you realize the pool of your dreams. From the latest technologies to the most stylish features, we have the expertise and experience to transform your geometric pool into a personal paradise. Dive into innovation with us! Contact us today!